What is UTAU?
UTAU is a voice-synthesis software made for the Windows Operating system. Like Vocaloid, you are in control of a vocalist to sing your songs for you. Though, UTAU doesn't have as many features as Vocaloid; UTAU does give the option to import your own voices or others voices into it, to be used for singing. This will be covered in later tutorials. UTAU is freeware, which means you don't pay for it, or the voices used. Everything is free, so if you paid for anything about UTAU or it's voices, you've been gypt!
UTAU is in no way affiliated with Vocaloid. It's engine was developed by a group of users, and not YAMAHA, or CRYPTON, the creators of Vocaloid.
The creators of UTAU have said all voices can be used in commercial work with no charge. Though, a person can sue if their voice was recorded without permission. So don't record any famous singers voices.
copy by:
Luna's post
Other description:
"Utau is a freeware program made by programmers who were fans of Vocaloid. UTAU was modelled after Vocaloid, using a similar interface and function, but has a lower quality output, and the ability to record custom voices for the program" -Krystal
How to Download UTAU?
Visit this
link
for download Utau. Download
installer v0.2.76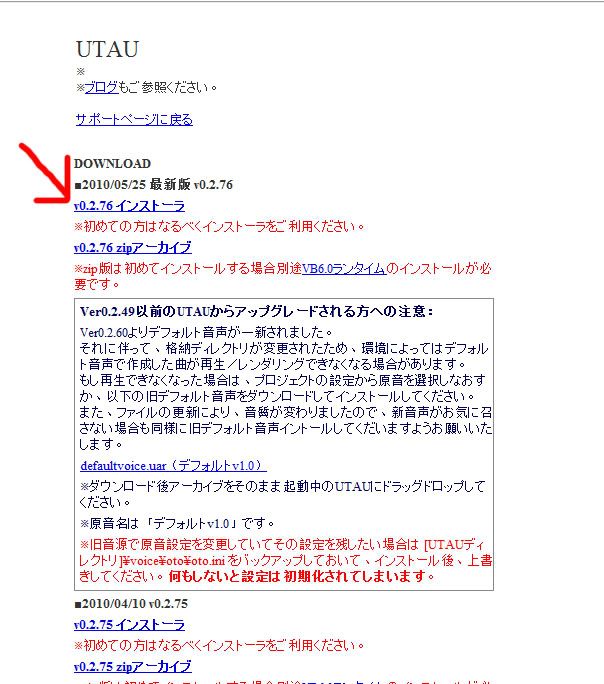 Finishing the Utau download process doesn't mean you can use it now. You must record your voice and make Voice Bank (VB). But if you won't, you can download it. This is one
site
where you can download a VB. You can save some VB, not just one. After finishing download process, you can start to use Utau. But your Utau program will in Hiragana/Japan language or even can't read. Like menu bar in this picture:
Don't worry, You can change it to English. For further tutorial (to change it to English), you can click this
link
.