Hatsune Miku
Age : 16 years
Height : 158 cm
Weight : 42 kg
Favorite Genre : Pop/Dance
Favorite Tempo Range : 70~150BPM
Best Vocal Range : A3~E5
Miku's voice has been used for songs spanning the oldest of styles up to the newest trends, singing mostly pop music along with a variety of other styles, including being well known for her ability to sing anime songs. She has a very charming voice that can climb easily to very high notes, while still able to sound beautiful at mid-ranges as well. By making use of Crypton's software you can have your very own studio and your own idol to work with - all from the comfort of your home!
Hatsune Miku is a cute and upbeat virtual singer voiced by
Saki Fujita
.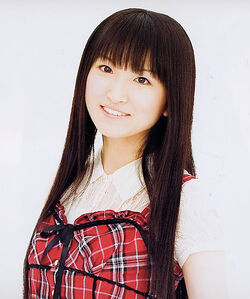 Saki Fujita (藤田 咲, Fujita Saki), is a Japanese female voice actress and the voice provider for the Vocaloid2 Hatsune Miku. She was born in 1984 in Tokyo, Japan. In 2003 she was awarded in the contest VS Audition 2003 by Pony Canyon which established her career as a voice actress. Since then, she has built her fame in the industry, providing her voice for many animes and computer games. Her soft and clear voice caught the attention of Crypton and they adopted Saki for their second Vocaloid2 product, Miku. Crypton's actions created an instant hit, creating the widely-known Vocaloid trend. Now Miku is widely recognized as the most famous and leading Vocaloid.
Saki once again reprises her role for the Miku append voicebanks. Now, Saki Fujita will take on a new challenge in Vocaloid; providing English-based voice samples as Miku, for the upcoming English voicebank of Hatsune Miku.
(c)
Mikunopolis
(c)
Vocaloid Wiki
Other:
Vocaloid Characters Profile - Kagamine Rin and Kagamine Len
Vocaloid Characters Profile - Megurine Luka
Vocaloid Characters Profile - Meiko
Vocaloid Characters Profile - Kaito